Gross Gaming Revenue (GGR) of American casinos dropped 31.3% due to the COVID-19 pandemic in 2020. This number is bigger than in 2019. The last such drop was observed in the United States 17 years ago, in 2003.
In 2020, GGR declined in all 24 US states where gambling is permitted, according to a report from the American Gaming Association (AGA). The biggest drops were recorded in New Mexico at 79%, Michigan at 56%, New York at 57% and Rhode Island at 51%.
AGA reminded that even during the financial crisis of 2008-2009, the income of gambling establishments decreased by a more moderate 8.4%.
The AGA CEO noted that the coronavirus has devastated the US gambling business, which requires the early distribution of the vaccine to recover it's stable work in 2021.
It should be noted that early last year, prior to the COVID-19 outbreak, the US gaming industry was targeting another record year. In January and February 2020, comparing to the same period in 2019, casino income increased by 11.4%. After that, OGR began to decline, reaching its lowest value in April last year.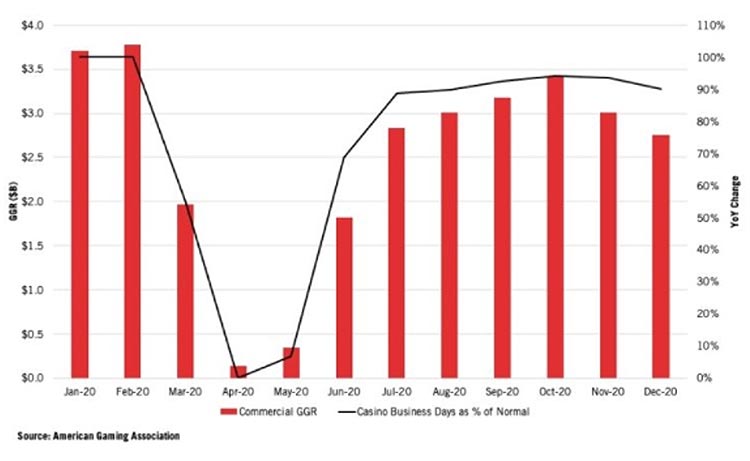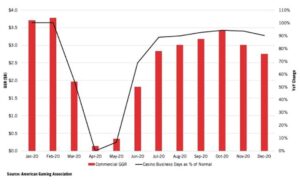 The report notes that due to the coronavirus, casinos had to close repeatedly or operate part-time. For this reason, the income could not recover in full, although they reached their maximum in October after a sharp drop in April. Online betting helped soften the decline of the gambling industry. For example, in New Jersey, players placed $ 996.3 million in sports betting in December, a record number in one month. Annual rate increased by 33%, or $ 6 billion.