The WSOP 2021 is highly likely to take place. A couple of months ago, the organizers of the world series simply indicated the approximate months of the festival, and yesterday the full schedule of the festival was published. The WSOP 2021 will host 88 bracelet tournaments from September 30 to November 23. The Rio casino will traditionally host the World Series.


The upcoming festival promises to be larger than in 2019, when 86 bracelets were awarded. Online bracelets will also be added this fall for US players at the WSOP and the rest of the world at GGPokerOK.
And in addition to a separate online series, the organizers promise online satellites to many tournaments. Given the large-scale schedule, the organizers expect a real full house:
"The WSOP 2021 is going to be a real event and we're preparing for a full house. Throughout the legendary history of the WSOP, this year will be particularly memorable, and we are preparing for a poker reunion that all players can celebrate, "said WSOP Director Ty Stewart.
The schedule was announced only yesterday, but many players have already announced their participation. Doyle Brunson will not miss the World Series – the legendary player said this on his Twitter: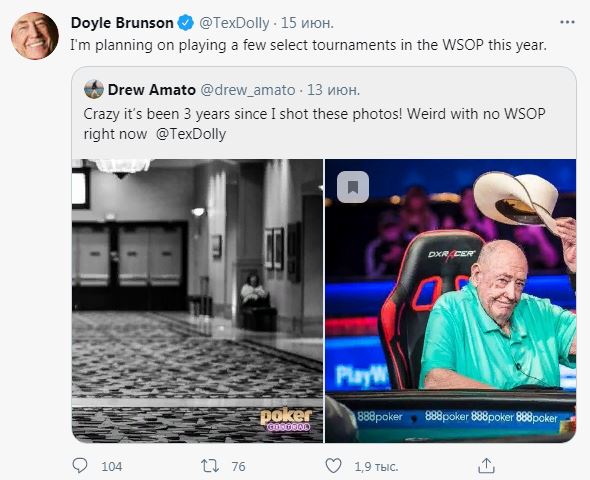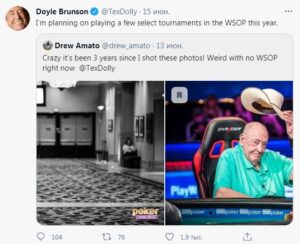 New items in the schedule
The upcoming series will feature some exciting new tournaments as well as changes to the regular WSOP events. Among the new products are the following:
The Reunion is the only event with a guaranteed $500 buy-in and $5,000,000 GTD;
Old School Freezeouts – five freezeout tournaments with buy-ins from $500 to $5,000 were added to the schedule for the "old school";
The Poker Hall of Fame Bounty is a free entry tournament for the Poker Hall of Fame and a $1,979 buy-in for everyone else. Separate awards are assigned for the heads of legends;
Nosebleed PLO – an expensive Omaha event with a buy-in of $50,000;
Flip & Go is a $1,000 branded tournament from GGPokerOK that will be played just like online.
Among the changes – the 2-7 Single Draw returned to the schedule, the buy-in of the heads-up championship increased to $25,000, and the tournament for those over 50 will have two starting days and the possibility of reentry.
The Main Event remains unchanged with a $10,000 buy-in and four starting days. This year's main poker event will take place from November 4th to 17th.